Why Choose Marilyn St. Germain-Hall
to Market and Sell Your Property
My Knowledge and Experience Produces Results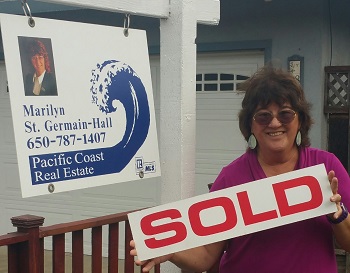 A realtor is only as good as the results produced.
When you hire me as your marketing representative, you are hiring me to handle your most important asset and you can expect reliable and personal service.
As a Pacifica resident, I know and understand the unique qualities of our neighborhoods. This enables me to emphasize the benefits and uniqueness to prospective buyers.
I have been a licensed real estate agent since 1993. I have represented buyers and sellers throughout San Francisco and San Mateo County.
I know the market and I know my business. By previewing most properties offered for sale in this area, I am able to keep abreast of the price and condition of homes that will be your competition.
I will advise you how to stage your property to creat the best possible impression. I know what features attract today's buyers.
I know how to find buyers. Through adverstising and marketing strategies specifically designed to get results, I am able to generate prospective buyers for your property. The buyer for your home may already be among clients working with one of the other agents in my office.
I am a competent and successful negotiator and will effectively communicate your needs to the buyer's agent.
I am a full-time real estate agent. Selling residential properties is my career. When you employ me to sell your property, I will be on the job and available to meet your needs.
Who Am I?
I hail from Massachusetts where I met my husband, Patrick, who was in the Air Force. We have lived in Pacifica since 1977. Sales has been in my blood from the early age of 16. I started by harvesting raspberries for 5 cents a basket to pay for my high school ring.
My accomplishments are:
Realtor, 1993 - Present
Member of San Mateo County Association of Realtors
Member of California Association of Realtors
Member of National Association of Realtors
Certified Notary Signing Agent
Member of the Pacifica Chamber of Commerce
Member of the Brisbane Chamber of Commerce
Rotary Club of Pacifica, 1989 - Present; First woman president 1992-1993
Pacifica School Volunteer
Daly City Health Center Advisory Board Member
Member of the Canadian Women's Club
Wife - Mother - Grandmother

Give me a call.
I make it happen...you make it home!